Description
The XRM5000 X-Ray Baggage Scanner allows operators to more easily identify potential threatening items in mail packages, hand-held baggage, and small luggage. The superb image algorithm offers a clear scanning image and other helpful functions to security screening operators.
FEATURES
Increase the operator's ability to identify threats
Superb image algorithm offers a high-quality, clear scanning image
Identify threats fast & accurately with its ergonomic design
Real-time detection to aid operators in identifying suspicious items
Real-time remote monitoring system
See luggage image and walk-through metal detector status displaying on the same screen
Equipped with input & output rollers
0.2 m/s Conveyor speed
Foldable Keyboard
Verification with Fingerprint
3 Colors in X-Ray Image
OPTIONS
Operator Desk
Uninterruptible Power Supply (UPS)
Video Surveillance
Eye Tracker (eye-tracking technology reflecting the position of the user's eyes and the gaze point on a screen as they are operating X-ray inspection. There will be a prompt when the operator's eyes are off the screen.)
SPECIFICATIONS
Tunnel Size: 23.62 x  15.74 inches
Speed: 0.2m/second
Monitor: 17-inch LED
Crate Size (L x W x H): 82.7 x 47.2 x 63 inches
Weight: 838 lbs
Est Weight with Packaging: 1059 lbs
DRAWING & DIMENSIONS (mm / in)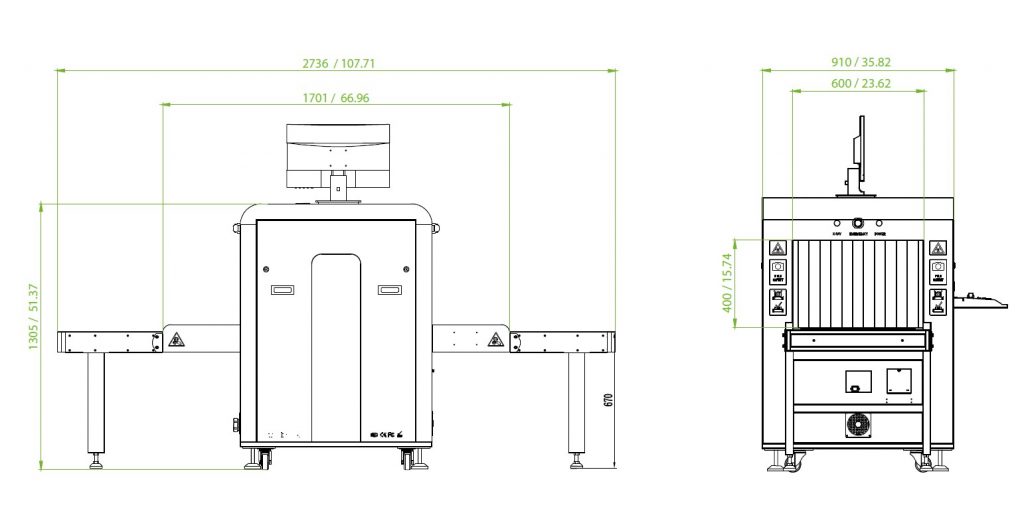 Click to Enlarge
*Please note that freight is not included and will be charged separately. Worldwide freight is available by sea/air/ground. Contact TURNSTILES.us for a personalized quote.