Description
The Beacon Series optical turnstiles combine modern, optical sensing technology with classic cabinet designs in either wood or 304 brushed stainless steel. This line features large profile units to fit any situation and can integrate with EntraPass access control equipment.
Using a non-restrictive method to control traffic flow, Beacon™ series units are ideally suited for office personnel entrances where entrance requires an ID card. In addition, they allow for rapid pedestrian advancement and barrier-free ADA access while preventing "tailgating" by those without credentials. Optical lanes offer a flexible range of passage widths from 22″ to 38″.
See other models in the Beacon Series: BE800-X, BE800-Z
DRAWING & DIMENSIONS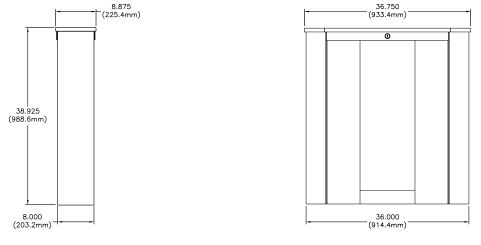 APPLICATION/USE
Interior Use
Optical sensors provide for passage of up to 30 people per minute.
Powerful through-beam sensors exceed sensing distance to ensure proper functionality.
LED graphic arrays indicate direction status.
Lower section optical sensors prevent unauthorized "crawling" through lanes.
Configurable for controlled passage in one or both directions with free or no passage in the other via logic controller settings.
Ideal for prestige settings (ex. banks, office lobbies, college student centers, embassies, and museums) where the majority of the people enter using an ID card.
Alarm condition provides an audible tone, as well as a solid-state output for integration into other systems.
Passage widths are flexible from 22″ to 38″.
Integrates with EntraPass access control equipment. TURNSTILES.us can professionally wire your system.
OPTIONS
Card Reader Mounting Option – Recessed into lid (per lid, up to 2 readers)
Additional options available upon request.
FINISH
Cabinet: 304 Stainless Steel / Satin Finish
Top: Solid Surface (similar to CorianTM) or Wood on the BE800-Z (ZL) & BE800-R
No Arm: Dark Tempered Glass to provide a sleek appearance while concealing inner components

*Contact us for a freight quote.