Description
The Executive Series motorized barrier optical swing gates are our premier high traffic volume units, crafted in 304 stainless steel. This model features solid surface or wood laminate tops and round ends. It creates an ADA-width lane that's ideal for office lobbies, embassies, college student centers, and anywhere where both aesthetics and performance will enhance the project space. Add additional single units to create more lanes to the base ADA pair, or just configure your single lane array as needed. Additionally, customers may have their company logo laser etched into the panels; a popular finishing option.
Data Sheet – Executive Series EX300 Optical Turnstiles
Installation Manual – Executive Series EX300 Optical Turnstiles
Etched Logo Art Requirements – EX300
Production Sheet * Required for Manufacturing* EX300 Turnstile
DIMENSIONS & DRAWINGS
Detailed dimensions and example configurations of the EX300 can be found below.
Add single lanes as desired to the double-door ADA lane.
* Please note that this unit is not available as a dual-arm cabinet because each cabinet fits only one motor, keeping a consistent and slim profile.
ADA Lane Dimensions

| | |
| --- | --- |
| HEIGHT | 38.925″ |
| WIDTH | 58.875″ |
| DEPTH | 36.750″ |
| BASE | 8.000″ |
| FLAP GATE LENGTH | 16.500″ |
ADA & 1 Single Lane Array Dimensions

| | |
| --- | --- |
| HEIGHT | 38.925″ |
| WIDTH | 89.500″ |
| DEPTH | 36.750″ |
| BASE | 8.000″ |
| FLAP GATE LENGTH | 16.500″ |
ADA & 2 Single Lane Array Dimensions

| | |
| --- | --- |
| HEIGHT | 38.925″ |
| WIDTH | 120.00″ |
| DEPTH | 36.750″ |
| BASE | 8.000″ |
| FLAP GATE LENGTH | 16.500″ |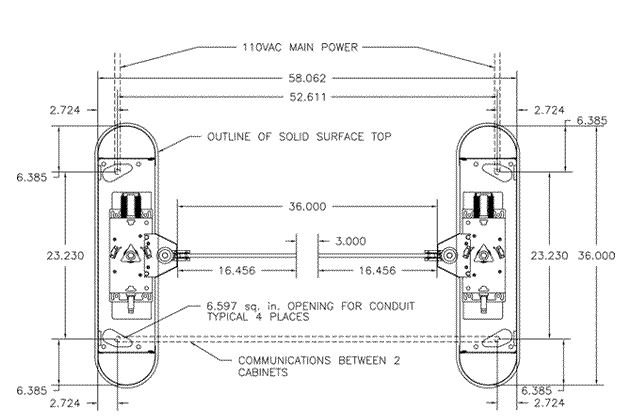 APPLICATION/USE
Interior Use
Ideal for prestige settings (ex. banks, office lobbies, college student centers, embassies, and museums) where the majority of the people enter using an ID card
Optical sensors provide for the passage of up to 30 people per minute
Passage widths are flexible from 22" to 38"
Powerful through-beam sensors exceed sensing distance to ensure proper functionality
LED arrays indicate direction status
Lower section optical sensors prevent unauthorized "crawling" thru lane
Can be configured for controlled passage in one or both directions, with free or no passage in the other via a user-friendly, text-based menu
An alarm provides an audible tone as well as solid-state output for integration into other systems
Fire alarm inputs incorporated to work with your fire system – upon fire condition panels open outward for free egress
Can be interfaced with optional computer attendance systems, card readers, push-button, and wireless remote controls
Integration with existing or EntraPASS Entrance Management Software
OPTIONS FOR THE EX300 OPTICAL BARRIER TURNSTILES
Card reader mounting option (recessed into the lid; up to 2 readers per lid)
Bidirectional key overrides (fail open only)
8 digit key resettable digital counter with LCD display and 7-year lithium battery
ADA push to exit placard button
Frosted laser etching of your company logo/artwork into the paddles
Corian™, wooden or other alternate top choices
Stainless steel round end tops
Portable Mounting Platform (eliminates drilling)
FINISH CHOICES

INSTALLATION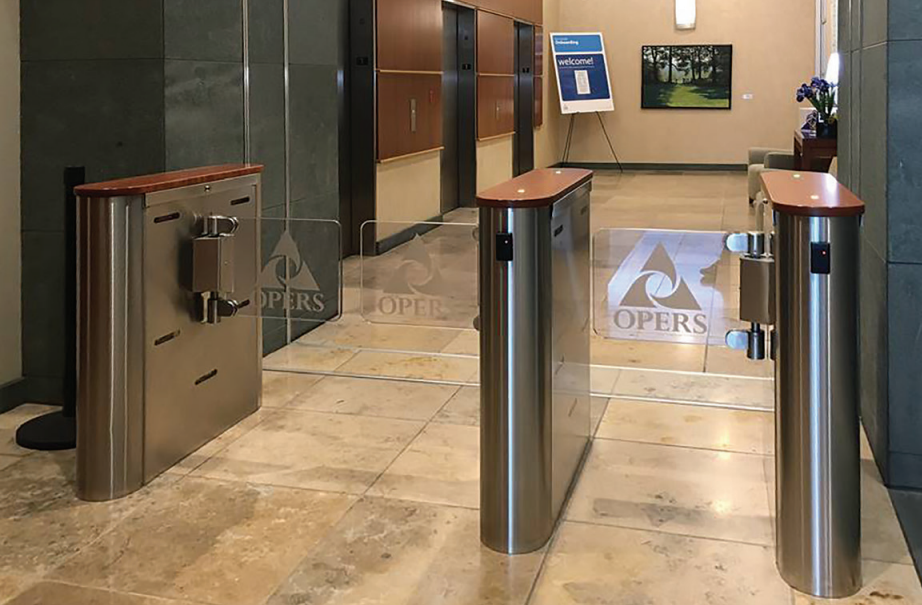 EX300 Optical Barrier Turnstiles with Wooden Tops and Etched Glass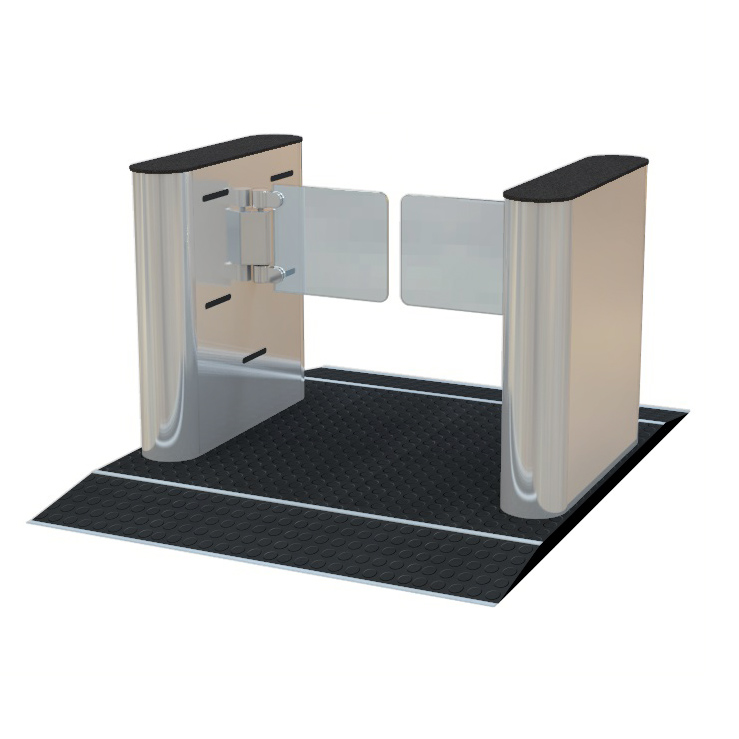 EX300 ADA Lane on Mounting Platform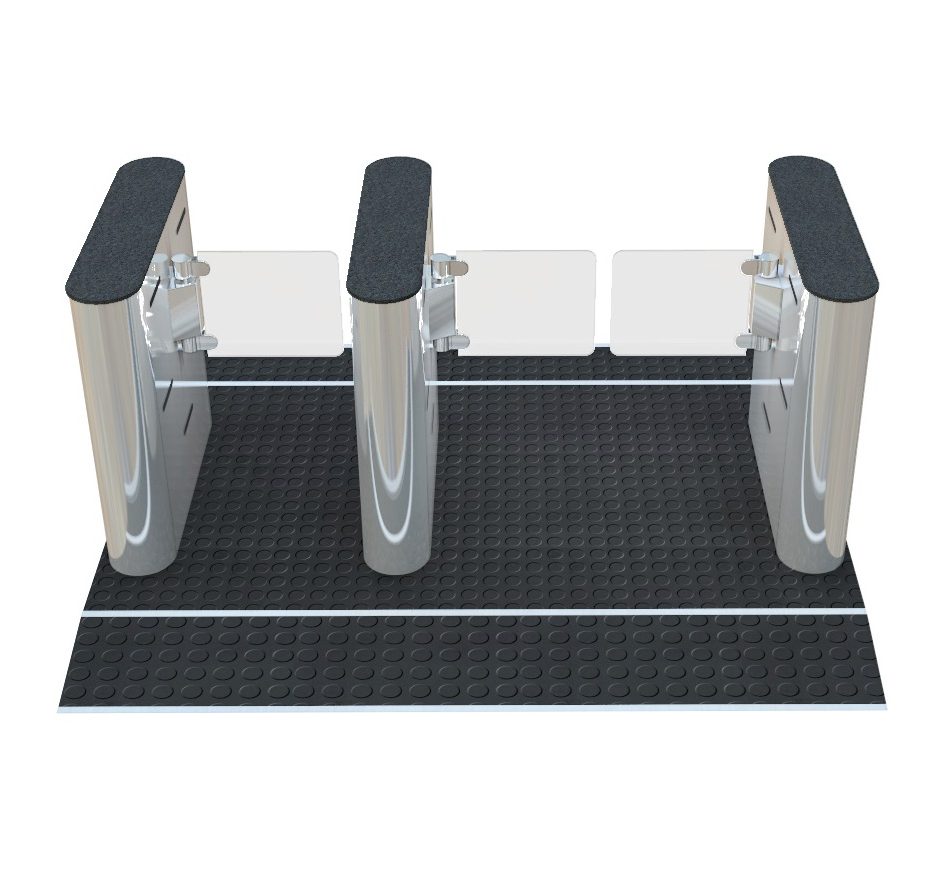 EX300 ADA Lane and Additional Single Lane Shown on Mounting Platform

TURNSTILES.us Installation Services are Available! Contact us. > See our portfolio of work Here
** Please note, the listed price is for goods only. Shipping charges are separate and to be determined at the time of order.
Terms & Conditions
50% deposit due at the time of order (to begin manufacturing) and the remaining balance is due at the time of shipping.