Description
The FacePASS Facial Recognition Terminal is a high-performance outdoor face recognition reader used primarily in access control applications. It combines a powerful embedded camera and the latest face & demographic recognition algorithm supported by an optimized dual-core processor. FacePASS is unmatched in accuracy, matching-speed, and versatility. Advanced security and convenience, all on a single an affordable platform. By combining the latest advancements in artificial intelligence with an optimized dual-core CPU, this device has truly reached a new height in user authentication technology. Its powerful embedded anti-spoofing engine can withstand almost all types of fake photo attacks. FacePASS can store and match up to 50,000 faces in less than 0.3 seconds per face in both extreme lighting (>50,000 lux) and severe rain conditions. It's IP68 and IK04 rating ensures its reliable operation even in the most hostile environments. The terminal is also equipped with a microwave detector that wakes up the device when a person stands within close proximity. FacePASS is truly the ultimate in secure, convenient, and reliable hands-free user authentication for numerous applications.
FEATURES
50,000 face templates (1:N)
Rapid facial recognition within 0.3 seconds
8-inch touch screen with 400 lux, which offers high visibility even under strong and direct light
Anti-spoofing algorithm protects against print attack (laser, color and B/W photos), video attack, and 3D mask attack
The built-in microwave detector wakes up the SF1008-WP automatically when it detects people standing within 8 feet.
Integrated 125 kHz prox card reader
2MP starlight SMOS sensor camera with WDR function, which enables the SF1008-WP to recognize faces under extreme lighting conditions (0.5 lux – 50,000 lux)
Supplement lighting with adjustable brightness
Multiple communication methods: TCP/IP, RS485, RS232, (optional Wi-Fi)
IP68 dust-proof and waterproof standard and IK04 protection standard
Wide range of working temperature (-30 ~ 60 degrees C; -22~140 degrees Fahrenheit
SPECIFICATIONS
Capacity
Faces 50,000 (1:N)
Users / Cards 50,000
Transactions 1,000,000
User Photos 30,000
Event Photos 10,000
Compatibility
Security Relay Box
Wiegand / RS485 / RS232 Secondary Reader
with Fingerprint / RFID / Barcode / QR-code
Bio Security Software
EntraPASS Access Control Software
Hardware
900MHz Dual Core Customized AI CPU
512MB RAM / 8G Flash
8″ Bright light (400lux) IPS Touch LCD
125KHz EM Reader / 13.56MHz MF(Optional)
2MP WDR Low Light Camera
Adjustable Light brightness LED
Hi-Fi Voice
Receiver sensitivity Microphone
Distance Detection Sensor
Reset Button and Tamper Switch
Access Control Interface:
Lock Relay Output
Alarm Output / Auxiliary Input
Exit Button / Door Sensor
Special Functions:
IP68 & IK04
0.3s Hight Speed Face Ver
Live Face detection
Communication Https Encrypted Optional
Event Snapshot
Standard Functions:
Access Levels, Groups, Holidays, DST,
Duress Mode (Password), Anti-Passback,
Record Query, Custom Wallpaper & Screen
Saver, Tamper Switch Alarm
Communication
TCP/IP
Wiegand Input / Output
Wi-Fi (Optional)
RS485 / RS232
Additional Info
Face Algorithm: LiveFace5.8
Working Temperature: -30°C ~ 60°C,
(-22°F~ 140°F)
Working Humidity: ≤93%
Storage Temperature: -40°C ~ +65°C
Storage Humidity: ≤93%
Net Weight: 853g
Dimensions (H*L*D): 227*143*26mm
Power
Operating Voltage 12V DC
Current Draw < 2,000mA
DRAWING & DIMENSIONS
  
Basic System Diagram: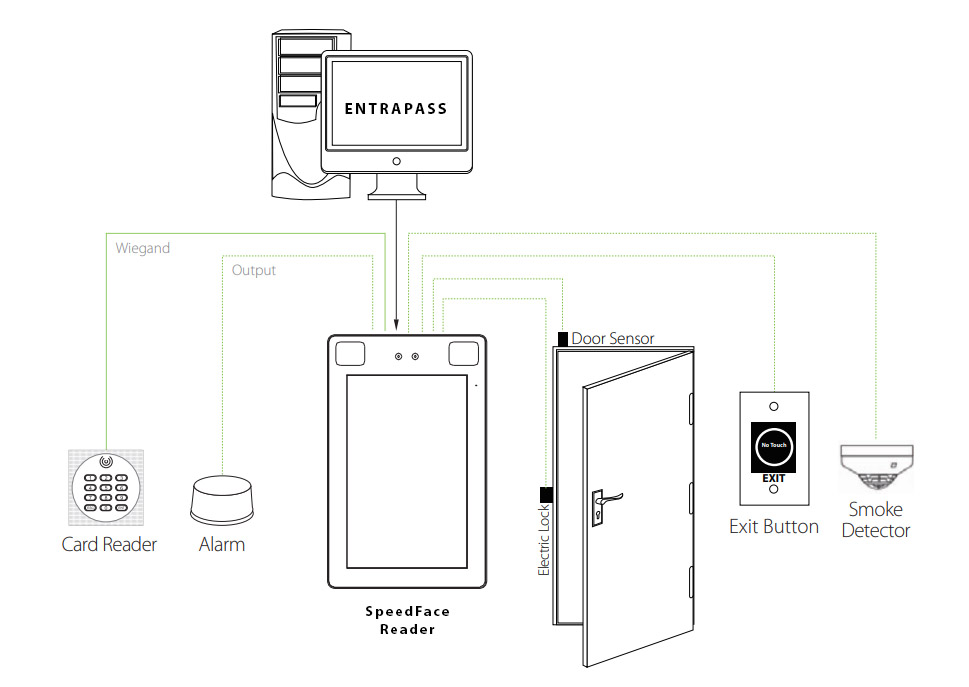 **Programming is performed by www.TURNSTILES.us, Inc. technicians and includes integrating access control devices and selected options purchased from www.TURNSTILES.us and www.EntraPass.us.