Description
The SBTL7000 is a sleek and modern swing-barrier turnstile series designed for smooth and silent operation and draws very little power. With a compact design, the width of the cabinet is only 15 centimeters.
SBTL7000 barriers are normally held in a locked position, thus denying access to the secured side. Upon SBTL7000's reader (RFID and/or fingerprint) positively recognizing a user's valid access card or fingerprint, its barriers swing automatically, thus allowing users passage to the secured side. During a power outage, the user can push through the barrier easily to exit to safety. SBTL7000 provides both security and convenient space, all in a very durable and elegant compact design.
Data Sheet – SBTL7000 Swing Barrier Optical Turnstile
Data Sheet – SBTL7200 (Center Lane Expansion Module)
FEATURES
Reliability
Powder Coated steel casework ensures long-lasting durability.
High-quality brushless motor.
Simplify structure and connection, easy to maintain.
Safety
Barriers unlock automatically during power outages.
All smooth finish. No exposed screws.
The ergonomic design makes card and fingerprint authentication fast & simple for users.
Integration
SBTL7000 series can ship pre-configured with our customers' preference for either card or fingerprint access control reader. This greatly reduces installation time & expense.
SBTL7000 series and associated access control readers are all factory-tested prior to shipping.
SPECIFICATIONS
Operating Temperature: -4 °F to 158 °F
Power Consumption: 30W running
Infrared Sensor: 6 pairs (option 10)
Indoor/Outdoor (when sheltered)
Lane Width: 26inch (660mm), or 36 inch (900mm)
Traffic Throughput: Up to 30 passages per minute
Dimensions Per Cabinet (L x W x H)  47 x 6 x 40 inches
Packaging Dimensions (L x W x H)  51 x 13 x 47 inches
Weight: 265 lbs
Weight with Packaging: 353 lbs
Material: SUS304 Stainless Steel and acrylic barriers
DRAWING & DIMENSIONS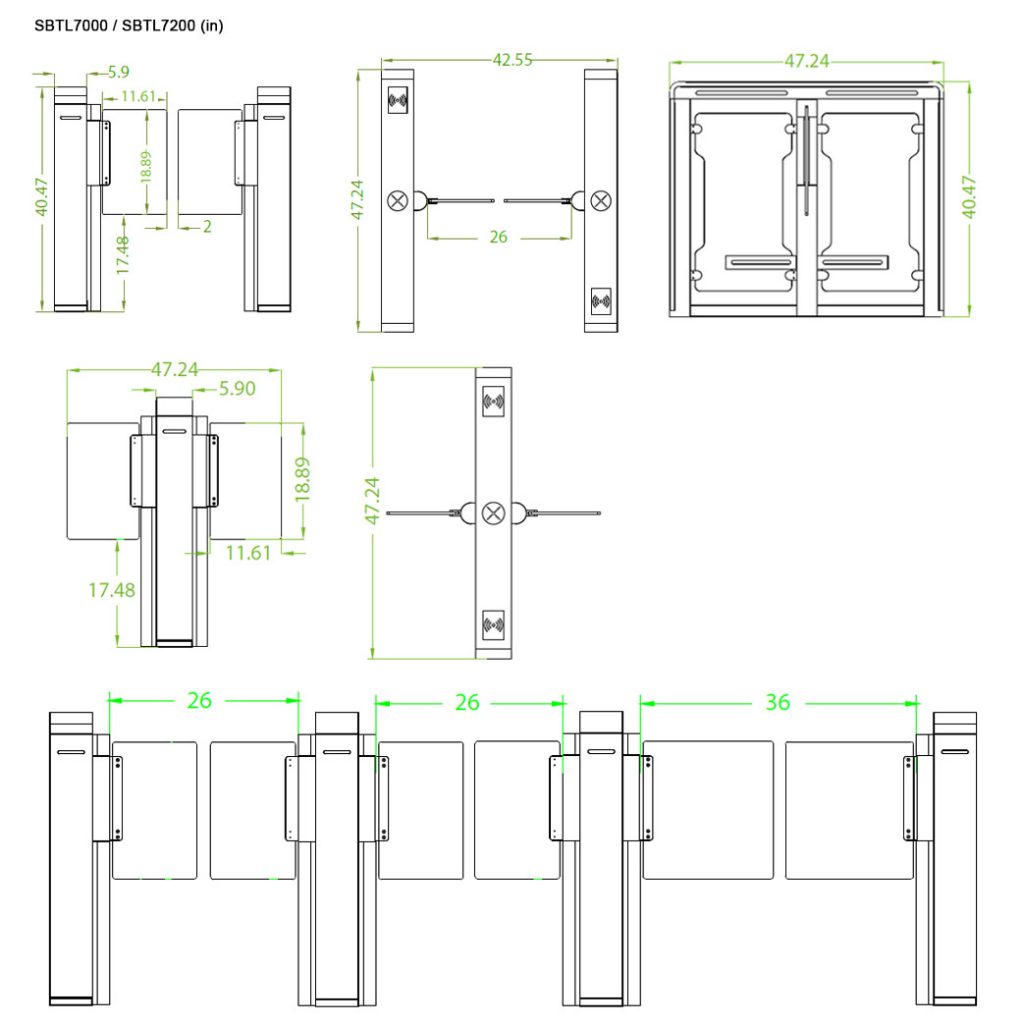 INSTALLATION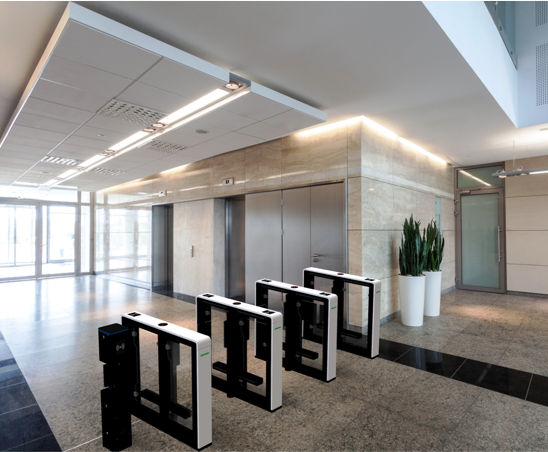 Installation Services Available
See our portfolio of work Here.
*Please note: Freight is not included and will be billed separately. Contact us for a quote.