Description
Full Height Turnstiles and ADA Gates are some of our most popular items and are frequently purchased together. This heavy-duty, full-height high-security turnstile and gate set provides controlled access when entering or exiting a facility.
FEATURES
HS430T Full-Height Tandem Turnstile

Mechanical
30″ Passage Width
1.5″ Diameter Tubing
Galvanized finish
Black end caps
Card reader mounting plates
HS430T Tandem

59.1″ Depth
102″ Width
91″ Height

Shipping Weight (alone): 1225lbs
Shipping Dims (alone): 106 x 51 x 54in

HS336-ADA Gate

Deadbolt and Pushbar
36″ Passage Width
Galvanized finish
Security mesh infill
HS336-ADA

3″ Depth
43.375″ Width (including frame)
91″ Height

Shipping Weight (alone): 490lbs
Shipping Dims (alone): 105 x 51 x 54in

COMBINATION Shipping Data

HS430-T (1) & HS336-ADA-MS (1)
Weight: 1715lbs
Crate Dimensions: 107 x 50 x 64in

Turnstile and gate have channels for wiring between them
Use on a fence line, in an entry or hall, indoors or outdoors
Made in the U.S.A.
OPTIONS
Add an Anti-Reach Barrier
Upgrade Turnstile Controller
Add Motorized Door Opener
Upgrade Finish
And More!
INSTALLATION
Contact TURNSTILES.us for installation information.
See our turnstile installation portfolio here.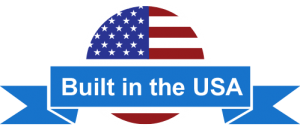 *Please note the price listed is equipment only, and freight will be charged separately. Please contact us for a freight quote.