Description
Dual mechanism access controller that combines design, technology, and the future. Its main feature is the smooth, comfortable, and quiet passage. Pedestal model access control equipment with double motorized mechanism and three swivel arms, security system, and pivoting arm. Combining smooth turning, versatility, and ease of integration with other safety components, Catrax Go Series offers durability and great cost-benefit. The Go Duo model stands out for being robust, versatile, and highly reliable in a unique and attractive design. These units are designed to integrate with other onboard security peripherals such as card readers, displays, keyboards, biometric readers, and EntraPASS Access Control. A variety of options, including a highly effective drop-arm mechanism, make this the worldwide turnstile of choice for the most discriminating integrator.
Data Sheet – CatRax Go Uno / Go Duo / Go Clip
Product Manual – CatRax Go Uno and Go Duo
FEATURES of the CatRax Go Duo
 Double system with three swivel arms, simultaneous and bidirectional control.
Rounded corners, preventing accidents in the passage.
Internal space that allows easy integration with other control accessories.
Support for fixing the integration plates, allowing easy maintenance.
Access to the internal part of the equipment through a secret key and without apparent screws.
Control of rotation locks through optical sensors and blocking by electromagnets, which generate less mechanical wear and longer product life.
Double motorized turning mechanism that follows the users' movement.
Independent and bidirectional mechanisms.
Internal space for a collecting safe directed to one of the mechanisms.
Upper pictogram indicating permission and access direction.
Side pictograms to indicate the direction of access.
Bearing mechanism with two bearings.
Finished in carbon steel with epoxy powder paint or brushed stainless steel AISI 304.
An anti-panic device that disarms the arm of the equipment releasing the passage of users and rearms through the automatic command of the arm, being independent for each mechanism.
Top glass with ABS edges for fixing readers.
OPTIONS
Light Kit with LED Indicator Lights
Electronic counter for ticket registration.
Anti-panic feature with disarming the arm (arm-that-falls).
Slot for barcode or magnetic card readers.
Card collector safe.
ACCESS CONTROL OPTIONS
Access control card model MCA – TCP / IP.
Barcode reader with a slot for badge pass.
Multibeam barcode reader – entry approach.
2D code reader (two-dimensional).
Wiegand / Abatrack proximity reader – HID / Indala / Acura.
Mifare reader.
Biometric reader, facial recognition
DRAWING & DIMENSIONS of the CatRax Duo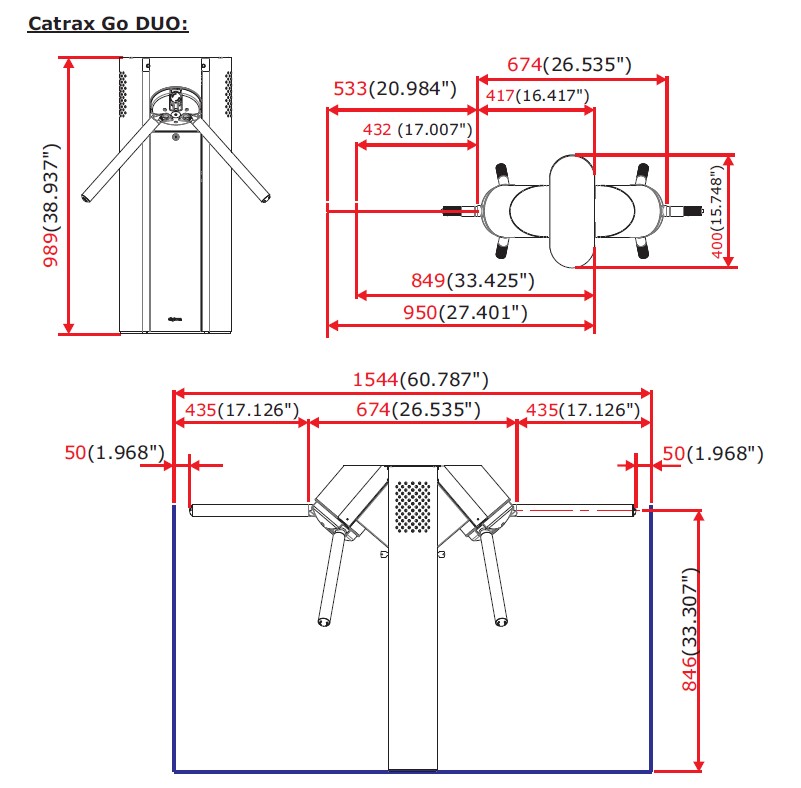 INSTALLATION
Installation Services Available
See our portfolio of work Here