Description
The High-Security Series ADA Gates are engineered to meet the most demanding security and control requirements. Paired with our full height turnstiles, they provide ADA accommodation to any project. Crafted from tubular steel with a choice of thickness, Standard or Heavy Duty.  These units are available in your choice of galvanized or powder-coated carbon steel or stainless steel (304 or 316 for extra corrosive resistance) finishes matching your turnstile array. Filler barriers are also available to suit your space.
Data Sheet – HS336 / HS348 ADA Gates
Installation Manual – HS336 / HS348 ADA Gate
Electric Strike for HS336 / HS348 ADA Gate
Production Worksheet for Manufacturing
APPLICATION/USE
Interior OR Exterior Use
HS336-ADA Model: Self-closing heavy duty swing gate provides wheelchair accessible 36" passage (with an overall width of 43.375")
HS348-ADA Model: Self-closing heavy duty swing gate provides wheelchair accessible 48" passage (with an overall width of 55.375")
Reversible electronic strike can be set to lock or open on power failure
Gate can also be unlocked with no power by configuring the strike to fail lock by using a key
Gate automatically swings closed with a standard hydraulic door closer
Voltage for the electronic strike can be taken from a nearby turnstile power supply
When the HS400 Series Full Height Security turnstile is "Free Exit", the HS336-ADA & HS348-ADA swing gate should also be free exit
FEATURES
Standard Hardware
Vertical Bars: Made of tubular steel with squared door frame
Door Closer: Norton 9300 Series with an aluminum finish
Deadlock: Adams Rite 4510 Series with 31/32″ backset
Strike: Adams Rite 7100 Series electronic strike – 24VDC
Cylinder: Schlage C keyway – standard SFIC available
OPTIONS FOR THE HS336-ADA & HS348-ADA
Motorized Door Opener – Adds 3" to the overall height of the door
Magnetic Lock – Can replace the strike lock if requested
Card Reader Mounting Plate/Enclosure (1 per electronic direction) – For mounting most standard card readers
Request to Exit ADA Placard Button with Plastic Surface Mount Enclosure – Rectangular or round
Single Push Button (installed on-site)
One Channel 900 MHz Wireless Receiver (one per direction) – Must be mounted remotely
Wireless Key Fob Transmitter (1 button)
24 Volt Power Supply (if being used electronically and not purchased with a turnstile)
Custom Passage Widths – Call for quote
Powder Coating Over Galvanizing Upgrade
316 Stainless Steel Upgrade – Standard is 304 Stainless
This door is also available with a Security Mesh infill
FINISH CHOICES

Carbon Steel – Galvanized (GALV)
Carbon Steel – Powder Coated (PC)
Carbon Steel – PC over GALV
Stainless Steel/Satin Finish (304):
Ideal for food service, manufacturing, hospitality, anywhere that aesthetics are important
Stainless Steel/Satin Finish (316):
Ideal for coastal areas, marine applications, areas exposed to corrosive chemicals and/or chloride (de-icing salts)
DRAWINGS & DIMENSIONS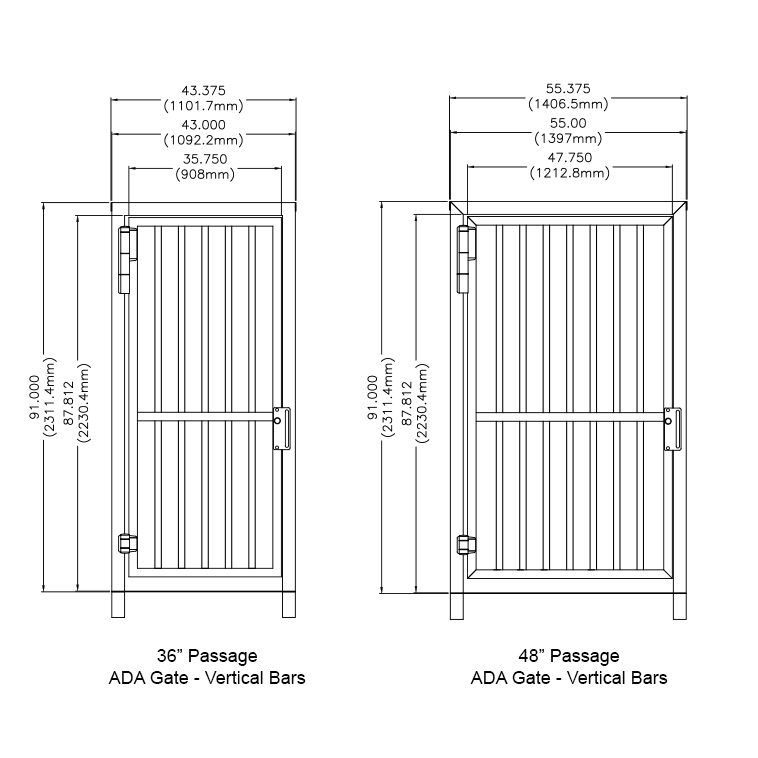 INSTALLATION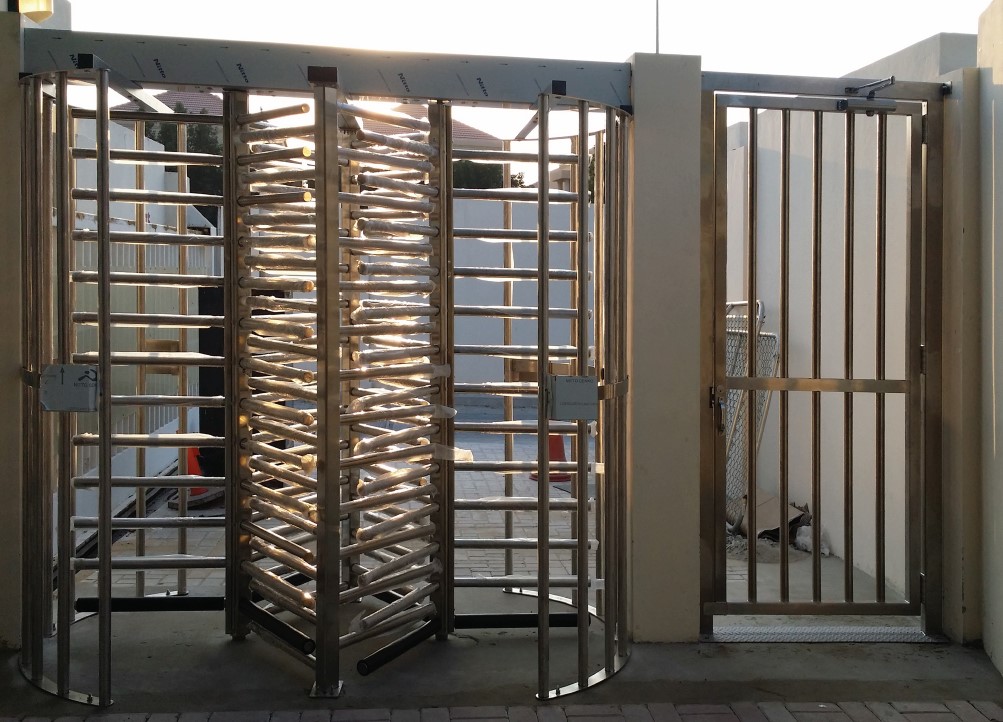 Stainless steel ADA Gate/Door with Vertical Bars, shown with tandem turnstile.
*Contact us for a freight quote.