Description
Featuring a sleek architectural design with 304 Stainless Steel and Tempered Glass Panels, TURNSTILES.us Wasit High Optical Turnstiles provide unsurpassed beauty and performance. Our turnstiles deliver the latest in optical sensing technology and are built with great craftsmanship. These units use sensors to monitor building entrances. They allow people to move through quickly while preventing the entry of those without credentials. Features include anti-passback, anti-tailgating, anti-crawl over, integrated lighting of the glass and doors, and the option for your company's logo to be etched into the glass. Multiple alarm options and speech synthesis output allow this turnstile to communicate with the user with phrases like Please enter, Have a nice day – or Access denied, please step out of the lane.
Standard passage width and ADA-compliant lanes are available. Customizable reader mounts can be added to accommodate the reader of your choice, including biometric readers, contactless card readers, and multiple other devices. Upgrade to unique metals such as copper, patina/copper, and patina/stainless steel.
Installation by factory Authorized Installers will ensure your investment will be up and running in a timely and professional manner. A fitted base platform is also available to non-invasively secure the units and conceal wiring. Our optical lanes offer a flexible range of passage widths up to 38″, and platforms meet the required ADA slope. Cosmetic and technical features can be customized to fit your location and integrate with EntraPASS Access Control Systems.
Installation and Operation Manual
Remote Lane Controls (RLC) Specifications
Remote Lane Control Panel (RLCP) Specifications
Periodic Maintenance Instructions
FEATURES
Glass Swing Gate Barrier Optical Turnstile
High or Low Glass Doors
Glass Side Panels
Automatic Entry and exit Control
For Interior Use
Pre-Entry Screening Gates
Automatic crowd control
Ideal for settings such as corporate or government lobbies, travel stations, hotels, banks, embassies, museums, etc.
Helps you manage the flow of people into and out of a building
Optical sensors provide for the passage of up to 20-30 people per minute
LED end displays indicate the direction status
Lower-section optical sensors prevent unauthorized crawling through lanes
Multiple alarms provide an audible tone, as well as a solid-state output
Standard or ADA-compliant passage width
Standard Casing: #4 brushed 304 Stainless Steel
Factory-installed, purpose-built microcontroller platform for embedded custom software
Fabricated and tested for proper operation at the factory
Requires external Access Control Software/Hardware for barrier actuation
Integrate with temperature check readers
Integrates with EntraPASS Access Control Systems
Hand-built in the U.S.A.
TECHNICAL FEATURES
Anti-Tailgate Detection
Vertical sensors at the front of the lane and horizontal sensors along the inside of the lane with on-off and sensitivity control
Programmable Alarm
Features 8 different tones with volume control
External output for remote alarm
Multiple Access Modes
Card in/card out, free exit, and lane closed modes for either direction
Intelligent User Guidance
Provides a clear path for the user as they navigate the passage
Battery Backup
Efficient 24 VDC operating system with UPS battery backup
allows turnstiles to continue operation upon power loss
Strength and Durability
Designed for continued use and maintenance-free performance American-Made Components
Provides exceptional reliability and compliance for Military and GSA Government projects
Optional External Touch Screen
Allows for control of several functions from a welcome desk or guard booth
The turnstile doors have an adjustable closing speed.
The turnstile also has an anti-tailgating feature that will cause the doors to close faster if someone attempts to tailgate-also setting off an alarm that has adjustable tones and volume as well as an external alarm output.
The anti-tailgating can be turned on or off in either direction.
OPTIONS
Card Reader Mounting, surface or embedded under glass
Matching Post/Rail and Glass Barriers
Custom Metals and Finish Materials
AG-HG High Glass, AG-LG Low Glass
DIMENSIONS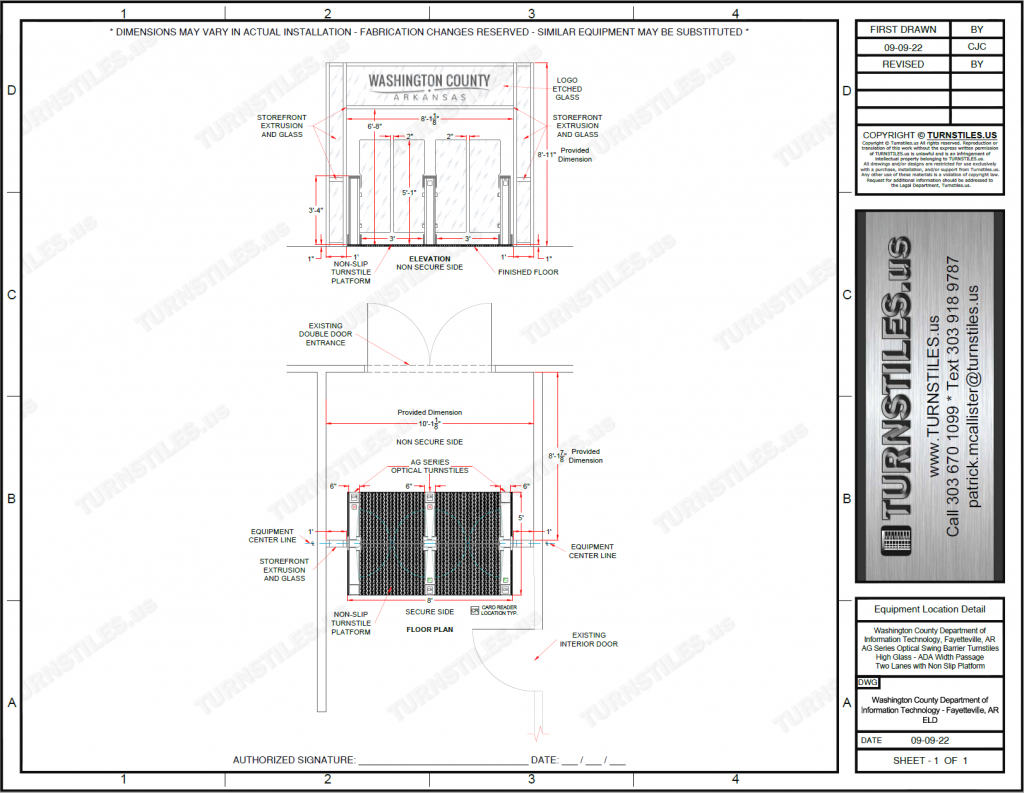 INSTALLATION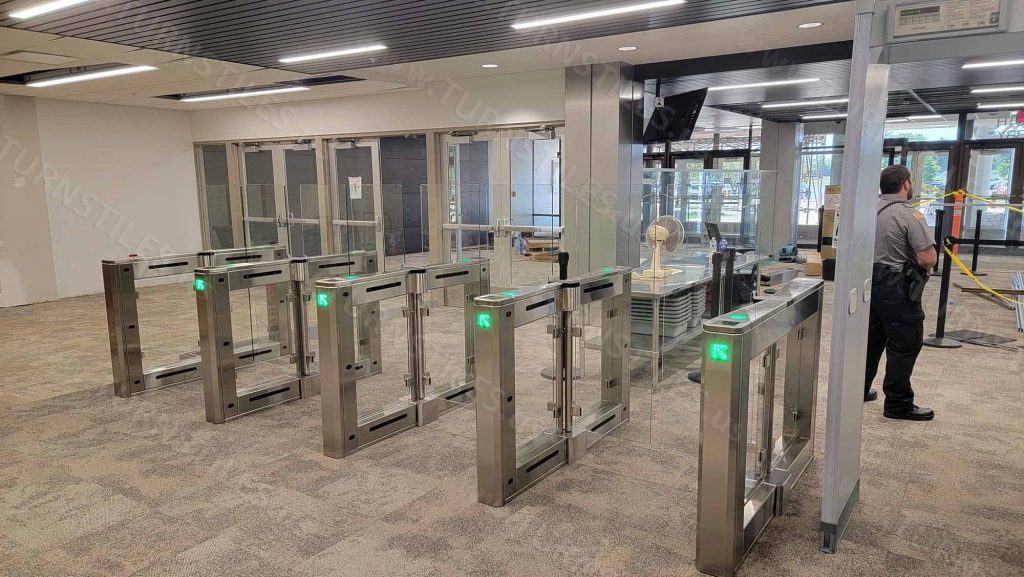 Optical Turnstile Array –  See more photos from this Installation: Emmet J. Bean Center, Indianapolis, IN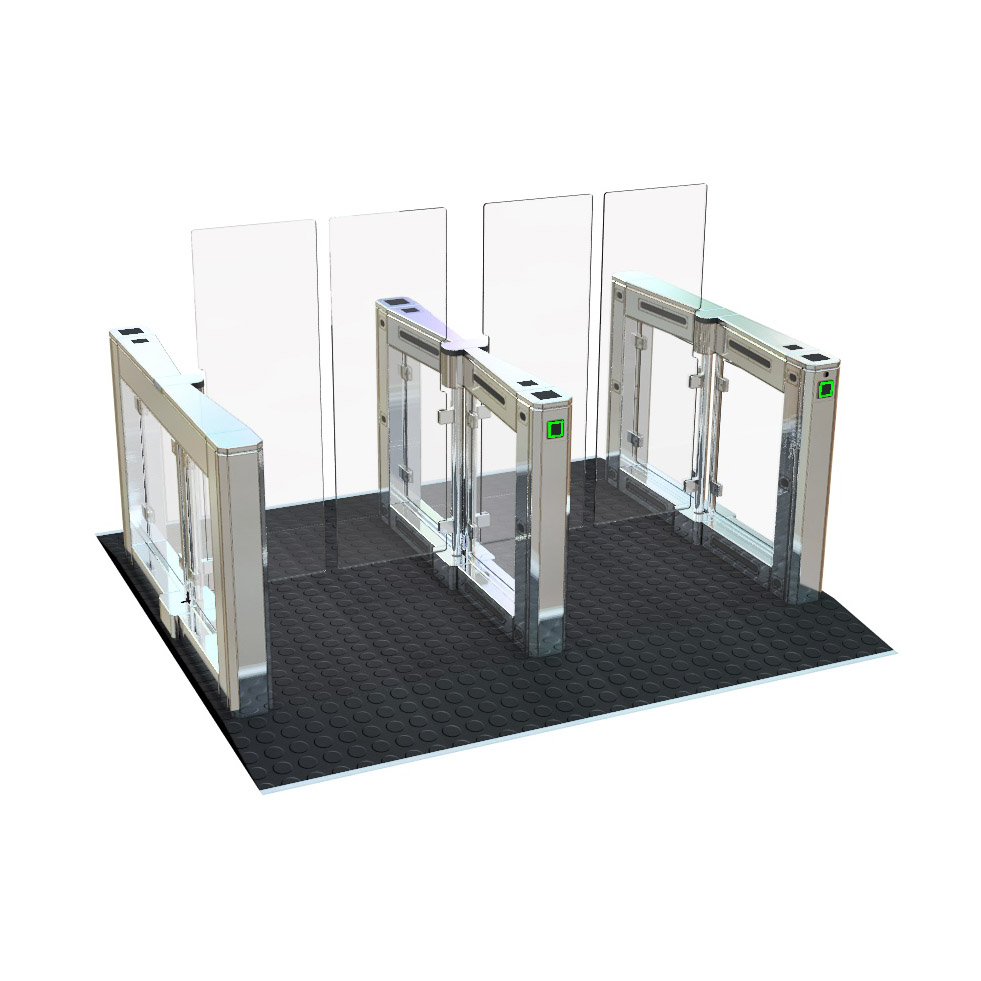 *Shown above on a Mounting Platform Base
Contact TURNSTILES.us for installation information – Available now!
See our portfolio of work.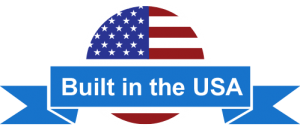 *Contact us for a freight quote.