EntraPASS Meal Tracking System
Monarch Casino – Black Hawk, CO
Submitted to:
Monarch Casino
Black Hawk, CO
Submitted by:
Patrick McAllister
www.TURNSTILES.us, Inc.
July 2022 – July 2023
www.TURNSTILES.us is a professional organization dealing with the physical and electronic securing of building entrances with Turnstiles, Mantraps, EntraPASS Access Control Hardware, and Software since 1989. We are a U.S. Federal Government Contract Holder (GS 07F 9239S) and are registered with the U.S. Federal Government System for Award Management (#181428611).
TURNSTILES.us is honored to present our Waist-High Turnstile and Gate  Meal Tracking System to Monarch Casino for their Employee Dining Room. Please find photos and project information below.
AutoCAD Equipment Location Detail
and Access Control Schematic
EQUIPMENT
(1) CatRax Go Clip Motorized Swing Gate
(2) Catrax Go Uno Motorized Tripod Turnstiles
(1) Satin Chrome Post and Rail Barriers
(1) Custom Cable Raceway Platform (optional)
(1) EntraPASS Global Edition Workstation
(1) EntraPASS Global Edition SQL License
(1) KT-2 Door Controller
(1) Battery and Power Supply for KT-2 Door Controller
(2) Multi Class Prox Card Reader
(2) Relay, Base and Snaptracks
(1) Wiring Package
SERVICE
AutoCAD Equipment Location Detail
Initial Database Programming
Remote Programming Assistance
Shipping and Crating
Field Labor (2) Factory Installers
4 Days On Site, 2 Days of Travel
*Electric and Low Voltage Conduit
Supplied to Base of Equipment by Others
Shop Fabrication
Platform Anchor and Conduit Design
Turnstiles and Gate with Railing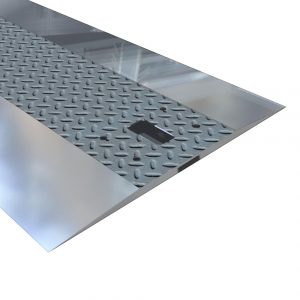 Raceway Platform
Custom Steel Surface Mount
- Optional -
EntraPASS Global Edition Meal Tracking System
The EntraPASS Meal Tracking System (MTS) is designed for facilities with employee cafeterias to help manage their food budgets. MTS combines the latest hardware and software technologies to provide an effective pay-per-entry food line. This core system can be scaled to serve all of your dining room management needs.
The Meal Tracking System setup includes a server with EntraPASS Software in the Food Service Administrator's office or another secure location. The database is loaded to this server, along with any reporting functions the facility requires. Additional computers can be set up for new employee intake into the system or for other Administrators.
Employee information is linked to a numbered card (or other ID method) which will be their meal card. At the beginning of each food line to be monitored, a scanner is installed and connected to a turnstile. As the identification is scanned, data is transmitted to the server.
If the visitor has been through the line already during that mealtime, the turnstile stays locked and passage is denied. If this is their first visit during that mealtime, access is granted. Additional options include temporary cards or tickets that may be issued to guests. Pay-per-ticket kiosks can also be installed at the front for anyone to purchase a meal ticket and enter the line.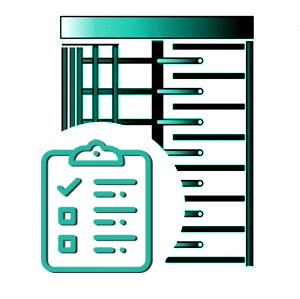 We are a One Stop Shop
Over 33 Years of Installation Experience
Pride in Craftsmanship
We provide Turn-Key Service with Value-Added Engineering
We provide Access Control Elements integrated with the Turnstiles
U.S. Federal Government GSA Contract # GS-07F-9239S
SBA Small Business HubZone Certification # 64753