Description
Our High-Security Series units are engineered to meet the most demanding security and control requirements. They can function as stand-alone units or as part of an integrated system, be fitted for any application with leading-edge technology and features, and integrate with most card reader systems and biometrics. All of our full heights include auto-indexing and self-centering rotors and feature our 6500 Control Head – certified to conform to UL standards.
The HS400 models are available in a variety of sizes and can be crafted in your choice of galvanized ("GV" models), or powder-coated carbon steel ("PC" models) or stainless steel ("SS" models)(304 or 316 for extra corrosive resistance) finishes. Our powder-coated units come in a variety of colors.
DIMENSIONS & DRAWINGS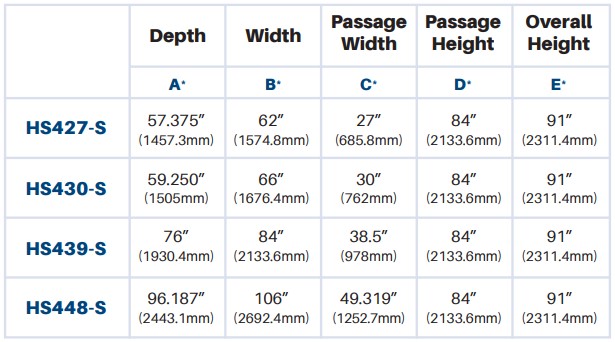 TUBING SIZES
1.5″ TUBING DIAMETER
HS427-S**
27″

(685.8mm)

HS430-S**
30″

(762mm)
1.75″ TUBING DIAMETER
HS439-S
39″

(990.6mm)

HS448-S
48″

(1219.2mm)
**The HS427 and HS430 units are also available with heavy-duty tubing as models HS427-S-HD and HS430-S-HD.
INTERIOR or EXTERIOR
APPLICATION/USE
Locate where you may or may not have a guard present
Can function as stand-alone units or as part of an integrated system
Nearly universal integration to any number of access control systems
Can be interfaced with optional LCD counters, computer attendance systems, card readers, push-button and wireless remote controls
OPTIONS
Home Position Switch – Additional limit switch provides a SPDT output while at home for security integration
Proximity Sensor Upgrade – Replaces limit switches with proximity sensors for part longevity
Bidirectional Key Override Set for Manual or Electric 2-Way Units – Allows the turnstile to be locked independently in each direction with a turn of a key
Card Reader Mounting Plate/Enclosure (1 per electronic direction) – For mounting most standard card readers
End Caps – Colors come in black or safety orange
Heel Guard Arm Covers – Available color is black
Full Canopy (Stainless only with Box Tubing Frame) – Covers top of the entire unit
Half Canopy/Yoke Guard (Powder Coated) – Semi-circle that attaches to the unit. Covers passageway only.
Half Canopy/Yoke Guard (Stainless) – Semi-circle that attaches to the unit. Covers passageway only.
Cold Weather Package – Includes 250 Watt Thermostat Controlled Heater and Insulated Mainframe. Available in 220 VAC for international applications. The Cold Weather Package consists of an insulated cover/main channel and a thermostatically controlled heater.
The Solenoid InRush Current cannot exceed between 3-5 amps but very momentary. In its activated state, the steady amperage draw is 1/2 amp.
Lockout Bar (out of service lock) – Prevents rotor from turning (padlock not included)
Base Plate (galvanized) – For portability of unit; HS427 & HS430 models only
Single or Double Push Button (installed on-site)
One Channel 900 MHz Wireless Receiver (one per direction)
One or Two Button Wireless Key Fob Transmitter
Daylight Visible Indicator Lights – A tri-color (R/G/Y) indicator light. Most models only use R/G.
Battery Back-Up – 12ah battery kit with 2x 12VDC batteries & 2 amp 24VDC charger
Matching Filler Barriers – Used to complete passage area. The standard barrier height is 91". Standard barrier width is up to 36".
Powder Coating Over Galvanizing Upgrade
316 Stainless Steel Upgrade
FINISH CHOICES

Carbon Steel – Galvanized (GV)
Carbon Steel – Powder Coated (PC)
Carbon Steel – PC over GV
Stainless Steel/Satin Finish (304):
Ideal for food service, manufacturing, hospitality, anywhere that aesthetics are important
Stainless Steel/Satin Finish (316):
Ideal for coastal areas, marine applications, areas exposed to corrosive chemicals and/or chloride (de-icing salts)
Stainless Steel models are also available with Powder Coating, Call to order.
CONTROLS / CONFIGURATION
*Single turnstiles require one Control Head. To add during checkout, select the option for Electronic Controls.
Manual Both Ways
Manual One Way / No Passage in Opposite Direction
Electronic One Way / Free Exit
Electronic One Way / No Exit
Electronic Both Ways
*Each electronically controlled direction can be configured as FAIL LOCK (fail-secure) or FAIL OPEN (fail-safe) upon power loss.
INSTALLATION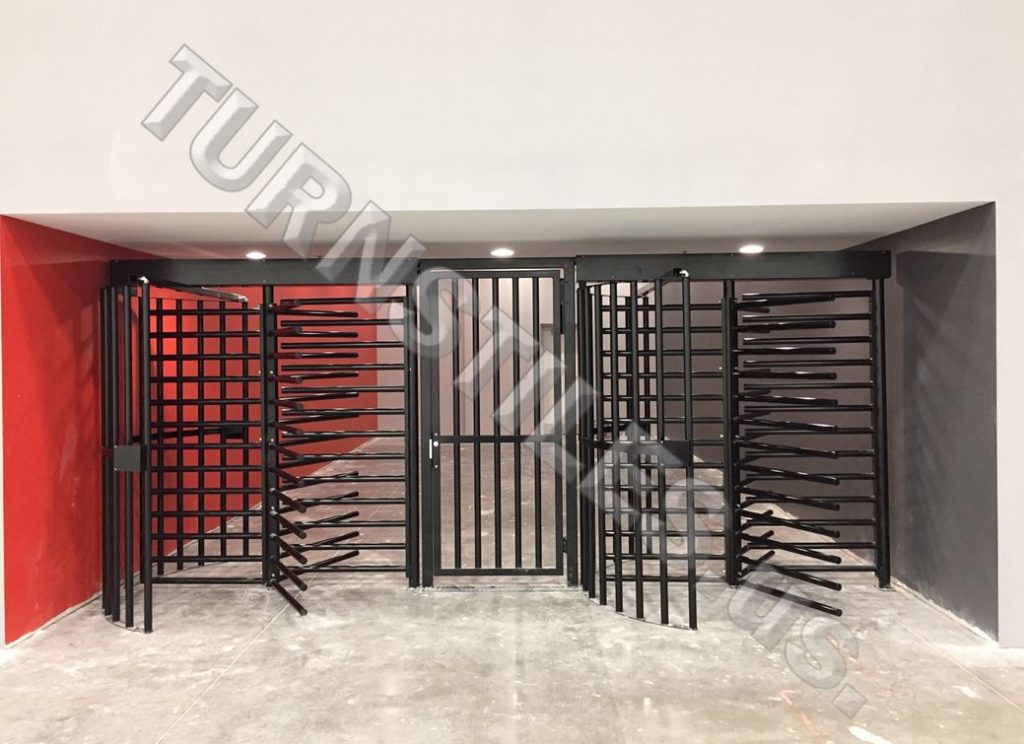 Shown are the HS439 and HS336 ADA Gate.
See our turnstile installation portfolio here.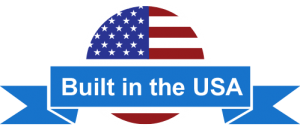 *Contact us for a freight quote.