Description
The P60 offers a modern, open feel while providing a secure, full-height portal. Available in a silver anodized or dark bronze finish upgrade, this unit will perform the same way a traditional full height turnstile does with a less imposing look. It is ideal for separating offices from production areas and enhancing lobby vestibule entrances. Our most "open-appearance" full height, the P60 is an interior-use unit featuring clear Lexan panels on the rotor.
DOCUMENTATION
APPLICATION/USE
Interior Use
Three-vane, tamper-resistant, and weather-resistant
These units offer a modern, open feel while providing a secure, full height portal
They will perform the same way a traditional full height turnstile does with a less imposing look
Can be interfaced with optional LCD counters, computer attendance systems, card readers, push-button, and wireless remote controls
Integrates with EntraPASS Access Control System


OPTIONS FOR THE P60
Home Position Switch – Additional limit switch provides an SPDT output while at home for security integration
Proximity Sensor Upgrade – Replaces limit switches with proximity sensors for part longevity
Bidirectional Key Override Set for Manual or Electric 2-Way Units – Allows the turnstile to be locked independently in each direction with a turn of a key (Only available as fail-open)
Card Reader Mounting Plate/Enclosure (1 per electronic direction) – For mounting most standard card readers
Passageway Overhead Low Voltage Lighting
Single or Double Push Button (installed on-site)
One Channel 900 MHz Wireless Receiver (one per direction)
One or Two Button Wireless Key Fob Transmitter
Battery Back-Up – 12ah battery kit with 2x 12VDC batteries & 2 amp 24VDC charger
Powder Coating over Aluminum (standard colors)
Matching T-36 ADA Door – Frequently used with the P60 allowing ADA compliance
Metal Detection Portal – HI-PE walk-through multizone metal detector integrated into turnstile with a remote relay unit that locks the turnstile upon alarm to disallow entry
Optical Anti-Tailgating System – Adds an extra level of security by locking the unit and sounding an alarm in the event of a second person following another without presenting credentials
CONTROLS
Manual Both Ways
Manual One Way / No Passage in Opposite Direction
Electronic One Way / Free Exit
Electronic One Way / No Exit
Electronic Both Ways
*Each electronically controlled direction can be configured as FAIL LOCK (fail secure) or FAIL OPEN (fail-safe) upon power loss
The 6500 Control Head powers electronic controls of the P60 Turnstile. The P60 requires two dry contacts set for a one-second pulse (one for entry and the other for exit). It also has another set of contacts for Fire Alarm or Hold Open, continuous, dry contact. Read more about the electrical requirements here.
DRAWINGS & DIMENSIONS
P60 Dimensions

ARM PANELS
75″ x 21.25″ x 31″
EXTERIOR HEIGHT
91″
INTERIOR HEIGHT
84″
DIAMETER
72.284″
CLEARANCE
30″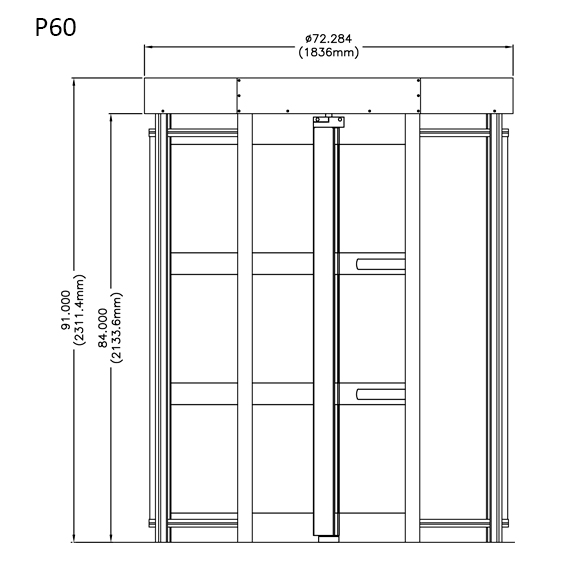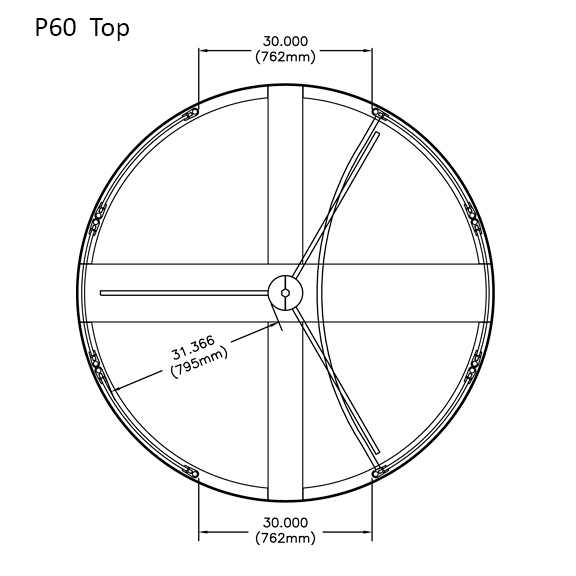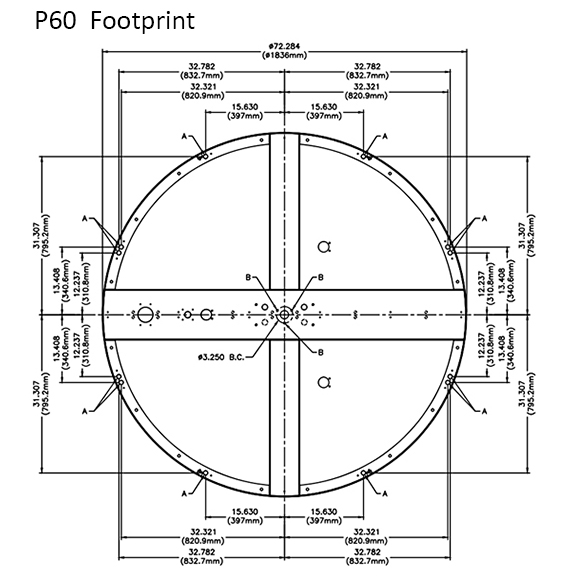 INSTALLATION
Installation Available. See more photos from our Installations of P60 Turnstiles at Fanatics, and at Martin-Harris Construction.
Shown above: Enclosed Security Entrance with 2 P60 Turnstiles and one T36-ADA Glass Door
ADD AN ACCESS CONTROL PACKAGE

*Freight estimated at Checkout is subject to increase. We will contact you about your order. Please contact us for a freight quote.