Description
Protect your turnstiles and gate equipment from the elements with the EGC Enclosed Glass Canopy. The EGC is a hand-fabricated shelter that features a welded steel frame, beautiful storefront glass, and heavy-duty roofing with built-in gutter and downspouts. Let in the light or get the glass tinted. Choose galvanized steel framing or have it painted with your chosen color. Custom sizes by the foot. These canopies outperform the highest wind and snow load requirements in America. The glass panel walls provide side and roofline security while adding sophistication to your turnstile entrance.
Under the canopy: Add matching turnstiles, ADA Gates, solar power, counters, card readers, an electronically controlled access system, and more. Outlaw Industries proudly builds all of its products by hand in the USA and customizes your canopy to order.
***Please contact us for a personalized quote. Final dimensions, colors, and design details shall be approved and signed off by the client prior to fabrication. Shipping and installation are not included.
Data Sheet – Turnstile Shelters and Canopies
Specification – Canopy Substructural Parts
Specification – Canopy Ribbed Metal Panel Roof
Select Options for Quote: Enclosed Glass Turnstile Canopy Style Sheet (updating)

>> Design Your Canopy!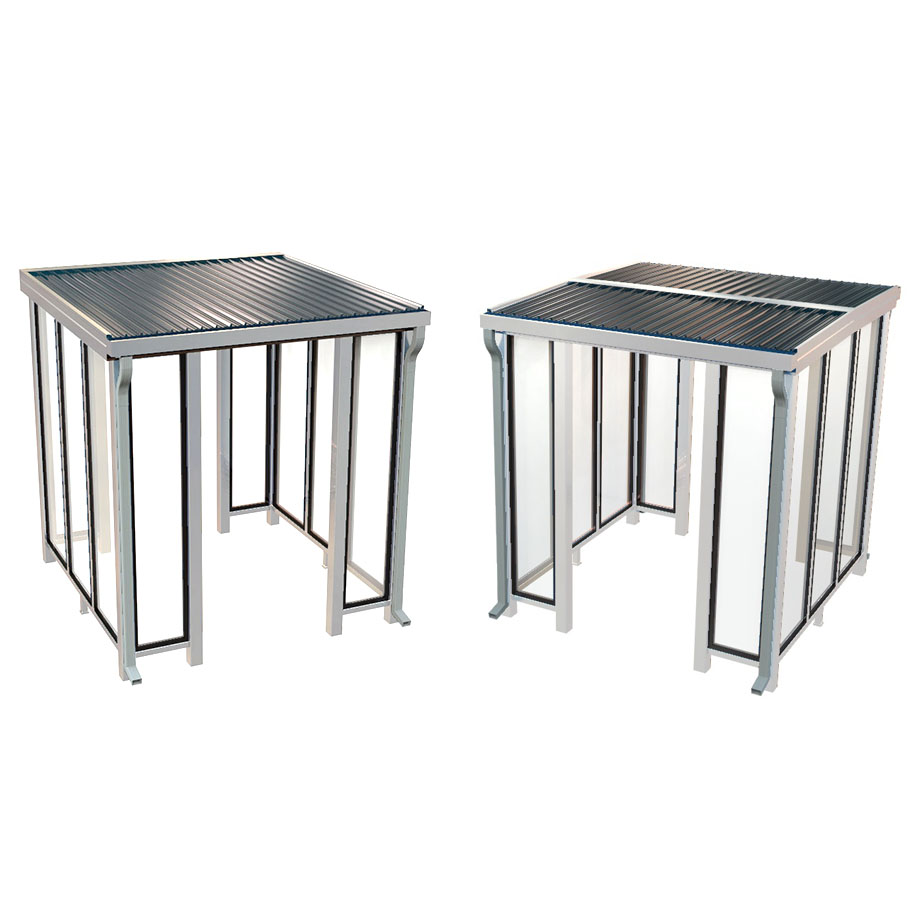 FEATURES
Attractive clear tempered glass walls
Steel Frame and Roofing
Standard Painted Finish, Upgraded Finishes Available
Choose a Basic Single-Slope Roof or Peaked Roof (Dual-Pitch) design
Built-in gutters and downspouts

The Basic/Single-Slope Roof roof has 2 downspouts (on the same side)
The Peaked/Dual-Pitch Poof has 4 downspouts (2 on each side) for more dispersed drainage

Heavy-duty industrial grade materials
Custom built to suit your needs
Protects your turnstile from the elements
Provides roofline security, preventing climb over (height of center roof above equipment is typically 8ft)
This freestanding unit is designed for your concrete pad

The recommended size of the concrete pad is at least 1′ wider than the canopy on all sides
ex. an 8×8 canopy should be on a 10×10 pad
ADDITIONAL OPTIONS
Add Solar Power Panels onto the Roof
Add New Full Height Turnstiles
Add Full Height ADA Gates
Cold Weather Package – Heaters and Thermostat
Lighting Kits and Electric Accessories
Integrate EntraPASS Access Control Software and Hardware
FINISH CHOICES
Stainless Steel
Powder Coated Colors
Powder Coated Over Galvanized
Galvanized Steel
*See the Canopy Production Sheet document above for color selection.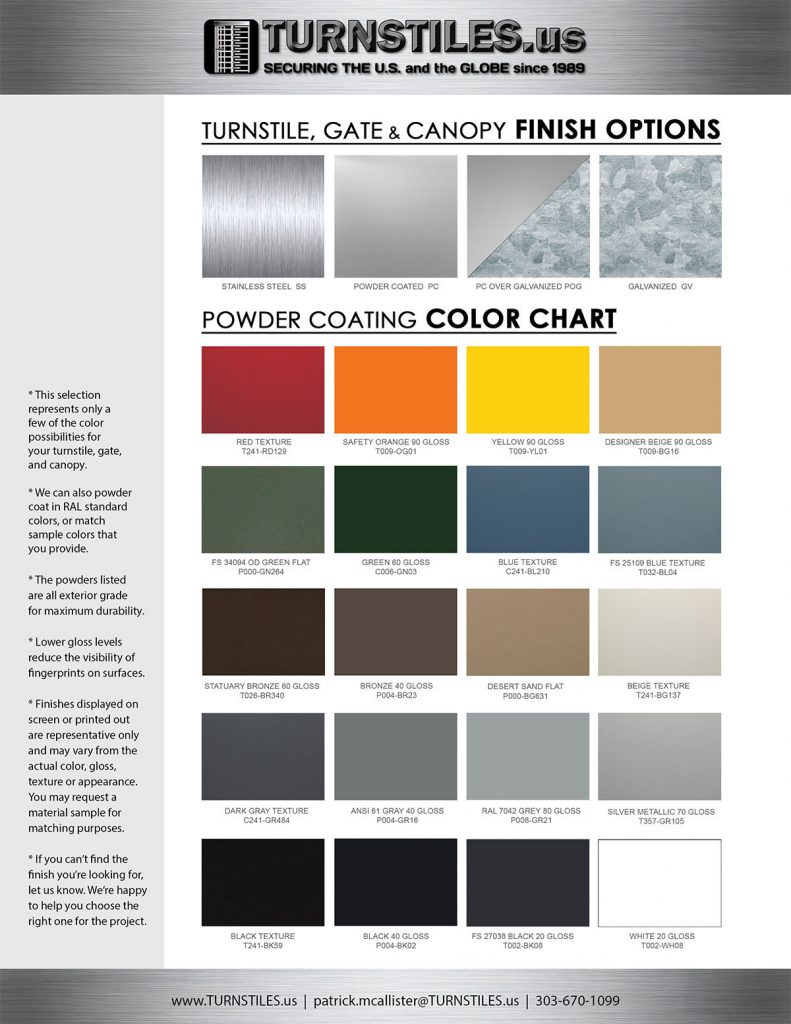 SIZING
Select A Size that works for your equipment.
The standard width of the EGC is 8 feet, the most commonly used size to house pedestrian entrance equipment.
The standard height of the roof at the center mid-point is 8 feet. Turnstile equipment fits perfectly underneath it, leaving a few inches for maintenance access, but not enough space to crawl over.
Custom sizes are available to suit your needs. *AutoCAD Drafting, Engineering work required for canopy fabrication and/or installation.
EXAMPLES & INSTALLATION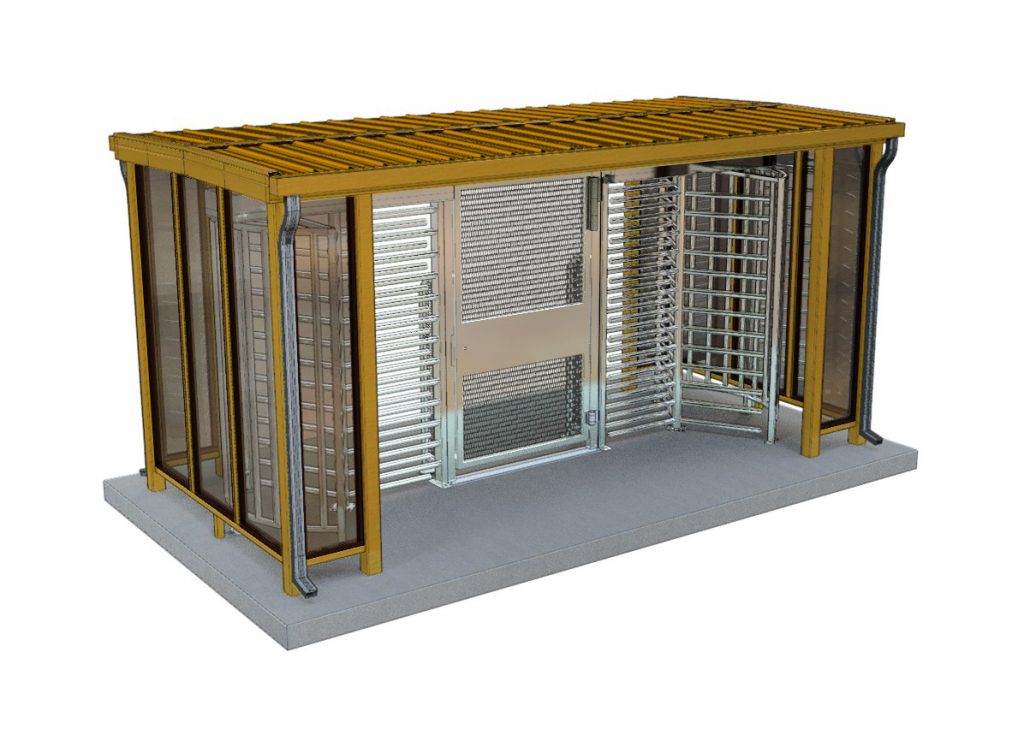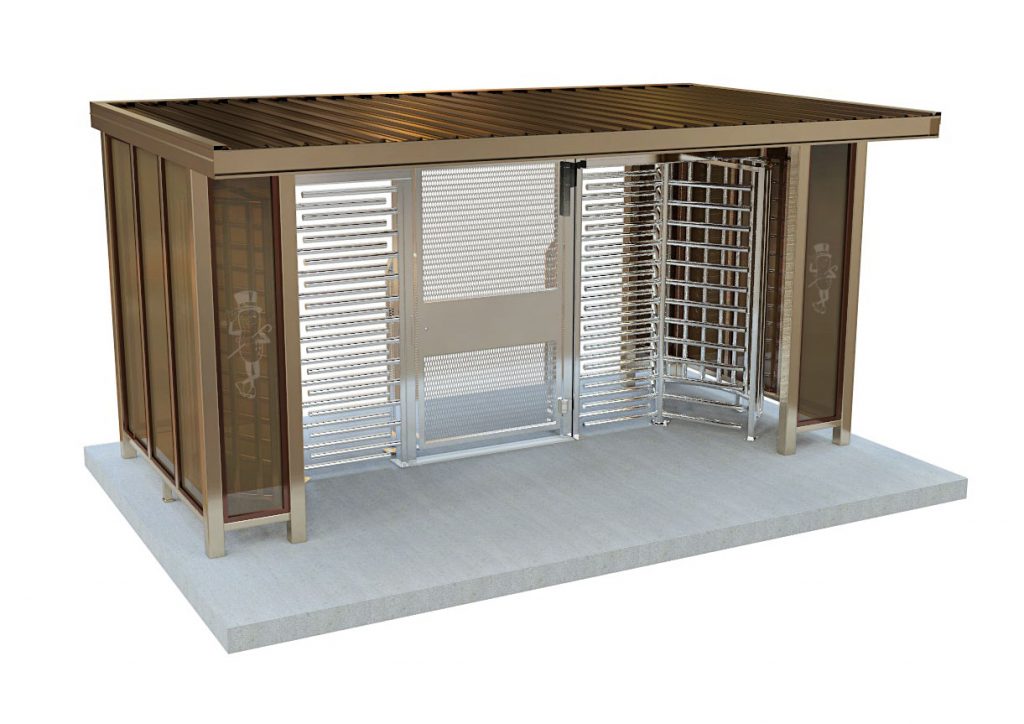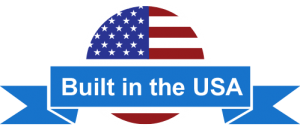 *Contact TURNSTILES.us for delivery and freight information.