Description
The OL-MSG Motorized Swing Gate is designed for managing pedestrian flows at entrance points of public buildings, banks, administrative offices, retail outlets, railway terminals, airports, etc., meeting the highest requirements for design and comfort. Gates can be placed alongside other turnstiles or as standalone devices.  It is recommended to define the number of swing gates necessary to secure fast and convenient passage. The OL-MSG has a throughput rate and maximum working load of 12 persons/min. The gate features a one-way or bi-directional mode. Made with 304 Stainless steel. Matching filler barriers, customization options, design and installation services are available. Contact us for more information.
STANDARD FEATURES
Waist-High Barrier Swing Gate
Sleek Cylindrical Steel Pedestal and Glass Wing
Motorized for no-touch, fully controlled rotation
Bi-Directional Swing (programmable for entry and/or exit)
ADA Width – 33″ Glass. Typical installation also allows a 2-3″ gap of space at the end of each gate.
Alarms with audible tone on tailgating or crawl-over attempts
American materials and beautiful craftsmanship
ADDITIONAL OPTIONS
Powder Coated Color Body
Matching partition or rail system to secure the entire area
Access Control Hardware
EntraPASS Entrance Management Software
DRAWING & DIMENSIONS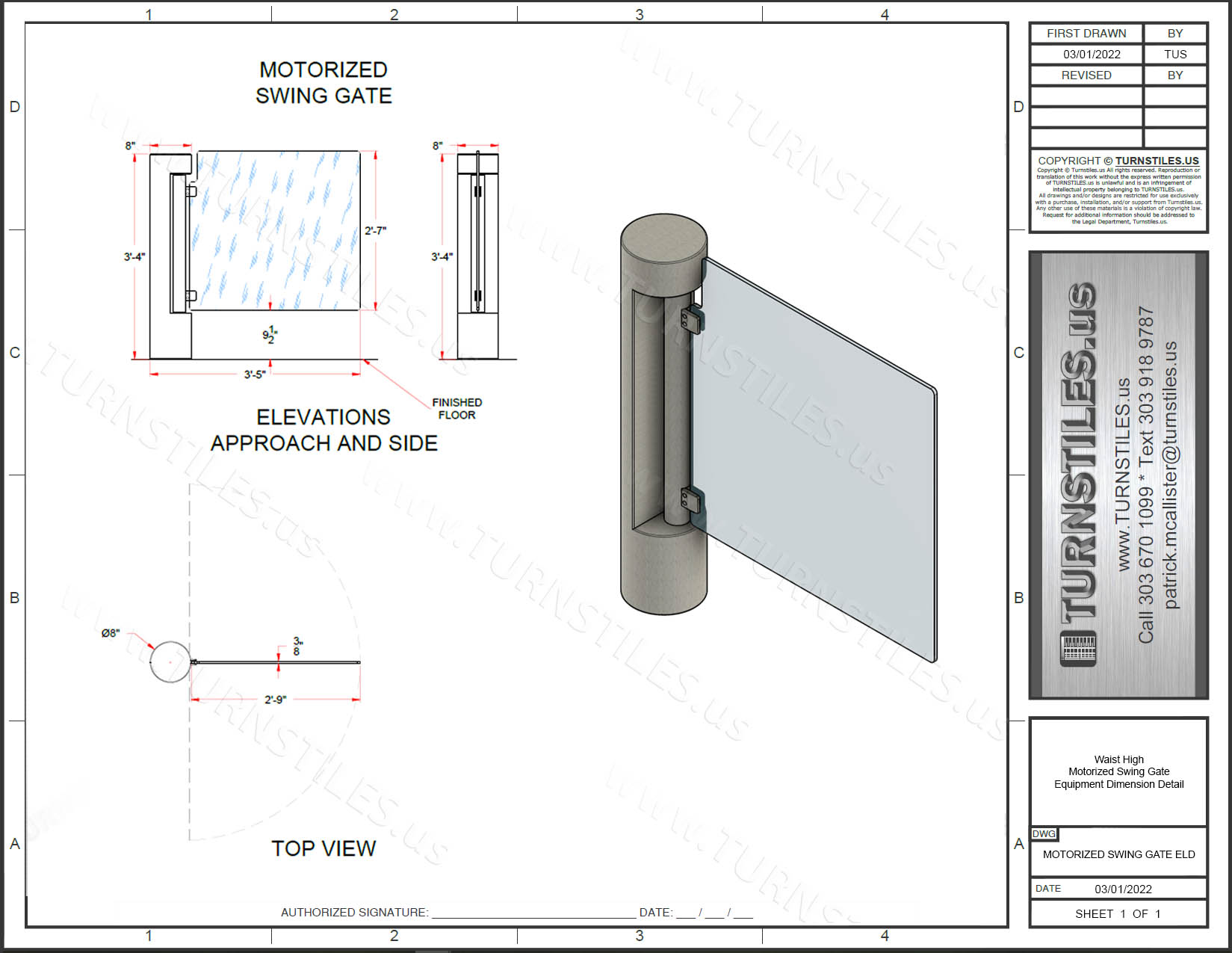 SPECIFICATIONS
Operating voltage: 24 V DC ±10%
Current Power consumption: max. 4.4 А
Throughput rate in single passage mode: 12 persons/max
Collision detection: Current Sensing
Power failure operation: Glass Swing Turns Easily by Hand
Fire alarm operation: Trigger Allows Automatic Hold Open in Desired Direction
PLC trigger options: Trigger to Open One or Two-Directional Adjustable Timer and Counter

INSTALLATION
Contact TURNSTILES.us for installation information and freight quote. Available to book now!