EntraPASS Construction Site Turnstile System
JFK New Terminal One Redevelopment
www.TURNSTILES.us is a professional organization dealing with the physical and electronic securing of building entrances with Turnstiles, Mantraps, EntraPASS Access Control Hardware, and Software since 1989. We are a U.S. Federal Government Contract Holder (GS 07F 9239S) and are registered with the U.S. Federal Government System for Award Management (#181428611).
TURNSTILES.us is proud to work with AECOM Tishman to providing our Construction Site Turnstile System Solutions for The New Terminal One Redevelopment Project. Please find selected equipment information listed below. 
Background: "The New Terminal One will be a 23-gate, state-of-the-art terminal. Sustainably designed and future focused, the terminal will feature expansive, naturally lit, public spaces, cutting edge technology, and an array of amenities, all designed to enhance the customer experience and compete with some of the highest-rated airport terminals in the world."
– New Terminal One Website
EntraPASS Construction Site Turnstile System
SERVICES
The Turnstiles will ship fully assembled on a Diamond Plate Steel Forklift Base
The EntraPASS Global Access Control Equipment will be housed in the header of each turnstile
 Each Guard Office will have an EntraPASS Global Workstation Computer connected to the main server
Engineering, Drafting Design, Concept Illustration
Programming and Schematics
Fabrication Labor, Made in the USA 
Installation Supervision: 

(2) Factory Installers (

6) Days On-Site
EntraPASS Global Edition Access Control
The EntraPASS Global Edition Workstation comes with Award-Winning EntraPASS Global Edition Security Management Software loaded onto a powerful All-in-One PC.
It is pre-configured for a variety of security levels so other users can view and manage alarms, time zones, access control points, and reports.
Powerful features support remote live monitoring and reporting.
Additional Options and Licenses – including easy web and mobile apps – are available to expand the functionality of your access control system.
The AG-30-TT-B combines a Tandem Turnstile with a Steel Forklift Platform for easy portability. This unit has all of the essential components included and is great for construction site managers that want the ability to relocate their security access point whenever necessary.
Custom options include Card Reader Mounting Plates, Proximity Readers, and Anti-Climbover Shield. Manufactured in the USA.
EntraBOX 8x10 Guard Shack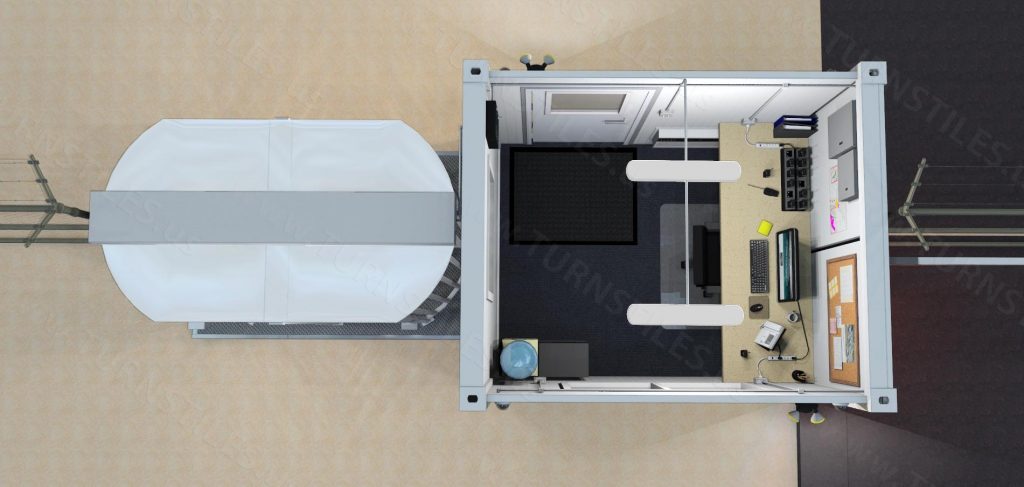 Our strong, portable steel container Guard Shacks are designed for optimal utility, economy, and comfort. Including a Large Countertop Desk, Multiple Windows, Convenience outlets, HVAC Climate Control, LED Lighting and more convenient features make this a comfortable office for personnel. 
Equipped with EntraPASS Access Control System, this package has vast capabilities including global Time & Attendance Tracking, helping to save time and money, reduce paperwork and errors, streamline workflow and safeguard your job site.
Print your own secure IDs with our ID Card Printer Package.
The Photo ID Badging Kit enables you to produce secure, personalized Access Control Badges in one single, seamless step. 
The direct-to-card printer and encoder also has an intuitive, user-focused SmartScreen graphical display, enabling efficient set-up, operation and maintenance of your technology investment. 
The ideal card printing solution for small businesses, schools, and local governments, this is the fastest printer in its class, allowing you to produce 50% more visually-rich, full-color credentials in the same amount of time.
Access Control Integration