Description
The EXT-LED Solar Powered Outdoor Light is an energy-efficient industrial fixture that shines all night. This weatherproof security light features super-bright LEDs that will light up the dark in a matter of seconds. Designed and built for a wide range of lighting applications such as commercial and industrial buildings, parking lots, streets, pathway lights, playgrounds, farms, parks, large areas, residential, and recreational lighting. This high-quality built and very durable light is completely self-contained. Its innovative smart lighting profiles offer true Dusk to Dawn all-night lighting capability. Long-lasting up to 14 hours of light after only 2 hours of sunlight charging. It offers flexibility for critical weather and variations in environmental location and it is able to automatically manage the critical status of the battery. An All In One Design!
FEATURES
Turnstile Canopy LED Light Accessory
Outdoor Industrial Grade
Runs on built-in Solar Power
60W – 6000 Lumens
Bright: This solar light is capable of illuminating up to 6000 Lumens that will light your area perfectly.
WeatherProof materials: Weather-resistant, rustproof, heavy-duty resin frame provides extra reliability and durability, especially in humid climates and coastal communities. You don't have to worry about rain damage and sun exposure. These LED Solar Lights can also get charged with ice/snow in the Solar Panel.
Color temperature: White light 6500K
No wires or electrical power needed
3 Lighting Modes

Radar / Motion Sensor
Timer
Light Control On/Off
LIGHT MODES
Set up the lighting mode needed by using the remote control.
Radar/Motion Sensor: the light will stay ON at 30%of brightness and if it barely detects movement it will turn ON at full brightness, then it will go back to 30% of brightness if it doesn't detect more movement.
Light Timer: the light can be set up to stay ON at full brightness for 6, 4, or 2 hours, then it will automatically turn OFF.
Light Control On/Off: the light will stay ON at full brightness all night long. Control by On/Off Switch.
PHOTO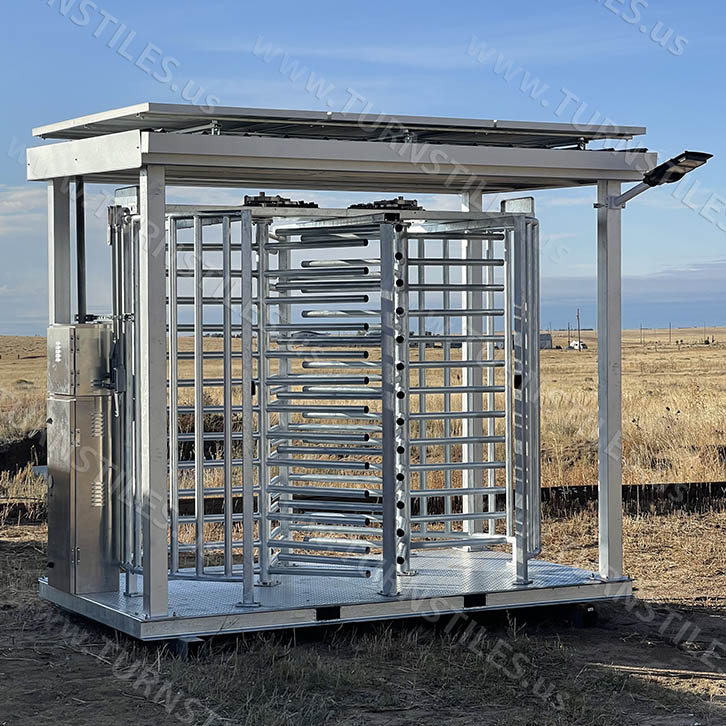 The EXT-LED is shown here mounted onto the canopy frame of the Solar-Powered Tandem Turnstile.